House Removals Company Fleetwood

Here at HJ Clarks, we are aware moving house can result in stress and upheaval for everyone involved. By keeping in regular contact with our customers throughout the process, we ensure your removal in Fleetwood is completed with minimal fuss. From your initial enquiry, we dedicate ourselves to satisfying all your removal and storage needs in the area.
With generations of experience of commercial and house removals in Fleetwood, we can react to every removal and storage eventuality. If required, times and dates can be altered to suit you. As we exclusively use our own crews and vehicles, you can be confident your house removal will be carried out quickly and efficiently.
As a leading home and office removal company, our crews are kept well-informed in advance of all your special requirements. This can include the sensitive handling and wrapping of fine art, furniture or fragile ornaments. Being an experienced removal company in Fleetwood, our work is never contracted out. You can be assured that our removal team will arrive promptly and in possession of all the correct equipment to ensure your removal goes smoothly.
Fill Out This Form To Contact Us – Removals Fleetwood
We aim to reply to all emails within 24 hours.
Office Removals Company Fleetwood
If you're planning to move to a new office premises, the prospect of transferring all your furniture and equipment may seem daunting. And, without the correct equipment and expertise, relocating your business can indeed be a stressful endeavour.
So, why not leave it to the experts? If you're based here and need an office removal in Fleetwood, we are here to help. As an experienced office removals company, we can assist with every aspect of the process, from taking inventory of your property, to securing each item prior to transit and lifting it into place at the new premises.
We have a large fleet of commercial-grade removals vehicles at our disposal, enabling us to transport heavy office furniture and equipment with ease. So, whether you're running a small start-up or a thriving nationwide company, you can count on our office removal company to make sure your all-important office move goes smoothly!
For more than 100 years, we have helped businesses across Fleetwood and Lancashire begin the next chapter in their success stories. Why not give us a call to find out how we can help you? Simply get in touch on 01253 691 481 or fill in our Online Contact Form.
A Personal, Hassle-free Service for Removals in Fleetwood
We are a removal and storage company that is with you throughout every part of the moving process. Your whole removal will be overseen by HJ Clarks owner, Michael Clark. This is to ensure you receive a first class, stress-free service.
By operating a small fleet of purpose built furniture vehicles we have the flexibility to access all types of property, even those with limited access or parking restrictions. By using our in house crews and vehicles, we can ensure that on the day of your move everything is safely loaded by midday.
Purpose Built Solutions – Removals Fleetwood
To ensure the safety of goods during your house removal, we use our own purpose-built packing cartons. Arrangements will be made for these to be delivered to your home well in advance of the date of your move. This will give you ample time, should you prefer to pack your own belongings. To find out about all our packing options don't hesitate to call one of our removal experts.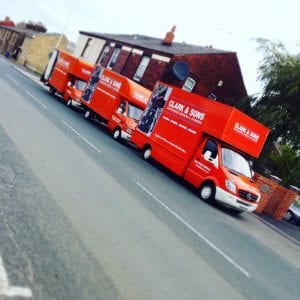 Wherever possible we endeavour to recycle all packing materials and use 100% recyclable packing paper. The quality of our packing materials is of prime importance to us. As a result, our company designed custom-made cartons which have been rigorously tested to ensure that goods inside the carton avoid damage when being transported. All our materials are costed into your final removal quote, subject to home survey, which also includes delivery to your home address.
"I firmly believe the service we provide our customers with sets us apart from our competitors. This is the reason our customer base has kept us in business for five generations. And hopefully for five generations to come" Michael Clark – Owner
To discuss any of our services or to arrange a free survey for home removals in Blackpool, please contact HJ Clarks today – Your local removal company in Fleetwood – on 01253 691481. We also offer removals in Lytham St Annes, Preston and surrounding areas.
How does HJ Clark & Sons differ from other companies?
The use of advanced materials and resources enables us to deliver fast, convenient, and professional services. Our commitment to customer service is also a distinguishing factor that sets us apart from our competitors. We welcome your inquiries.
Can you disassemble and assemble items?
Yes, absolutely! A variety of home and office furnishings can be detached and put back together. When removing large furniture from a property, it is often necessary to disassemble it. When you move into your new property, Clarks & Sons will rebuild and install your furniture for you once it has been separated by our team.
Is it possible for you to relocate me away from Fleetwood?
There is no doubt about it. If you are planning on moving to a new home in Lancashire, Clark & Sons can assist you with the process.  Our services include planning and coordinating moves from their current location to another one.
Do you offer free quotes?
Yes. You can receive a quotation free of charge and without obligation. When it comes to packing, removals, and the like, we conduct site surveys in order to assess risk and plan strategically, so you know that your commercial or domestic removal in Fleetwood is in the best hands.
What size of removals can you handle in Fleetwood?
We can do small or large removals for any type of property, including homes, apartments, and office buildings.
Can you offer tips for home removals in Fleetwood?
Undoubtedly. From decluttering your home to packing, Clark & Son will help you prepare your removal boxes in under one minute.  Visit our website for more information or contact us with questions today.